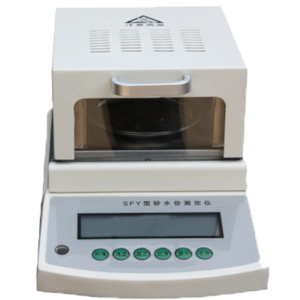 In wet casting production, the moisture content of the molding sand should be in an optimum state. The optimum moisture content of the sand is mainly affected by the amount of mud. In addition to the mud content of the raw materials used, it is also necessary to consider the mud content that is continuously generated during the casting process. For example, the clay becomes a dead clay after being subjected to high temperature, and the pulverized coal is burned to become ash, so that the mud content in the molding sand is increased. This will change the optimum moisture content of the molding sand. In order to facilitate the mold release, it is often necessary to increase the moisture content of the molding sand. The performance of all types of sand in the production process is often changing, especially the large number of production lines are more obvious.


The water content of the molding sand is very sensitive to changes in the properties of the molding sand. If the water content is too high, the fluidity of the molding sand is poor, the molding sand is not easy to be compacted, and the wet strength of the molding sand is relatively low, which tends to cause defects such as surface roughness, sand expansion, sand inclusion, running fire, and pores in the casting, and it is difficult to fall sand. The wet sand is also easy to stick sand and stick the hopper, which makes it difficult to shape. On the other hand, if the water content is too low, the toughness of the molding sand is poor, the mold is difficult to be obtained, the surface strength of the sand type is poor, and the casting is prone to defects such as sand washing and blisters. Therefore, in the production process, the optimum moisture content of the sand must be correctly selected and controlled according to objective factors.

● High accuracy

The use of imported components and fast-sensitivity load cells allows very few samples to be measured with very accurate moisture content under high-precision weighing.

● Standard RS-232 interface

Communicate bidirectionally with your PC or connect to a printer.

● Clear and easy to observe large screen digital display

Measurement procedures, setpoints, moisture content, measurement status, data numbers, and other important information are clearly displayed at the same time.

● Parts are easy to operate

An ergonomically designed disc handle that avoids accidents such as burns when hot samples are placed or removed, and the wing handles allow the heated lid to be easily opened and closed.

● Three drying procedures

Automatic drying: The sample to be tested stops the drying process when it reaches a constant weight after drying.
Timed drying: Dry the process at the set temperature according to the preset time.
Manual drying: Manually open and stop the drying process by pressing the button.
The above three drying procedures can fully meet the measurement requirements of different samples.